Every superhero writer ultimately faces the biggest challenge: writing the origin story. Origin stories are absolutely critical to get right for the launch of a new superhero character, or the reboot of an older one. Unfortunately, origin stories are also very easy to get wrong, descending either into cliché or tropes so well-worn as to become threadbare. Or, the origin story uses up all of the character's motivation to be a superhero right in the first shot, leaving next to nothing for later stories.
Let's take a look at how we can make sure that your superheroes origin story is one of the best stories that you tell, and one that you will be able to build into an epic saga for your character. We're going to look at not only how, but when you should tell a superhero's origin.
Unpacking the myths of superhero origin stories
Out of all of the various ways that superheroes are created, we can break the various origin stories into two broad categories.
Superheroes are created by the gods, or
Superheroes are created by men.
Superheroes that come from the gods are those who are empowered by destiny, gods, aliens, accident, meteor shower, mutation, or pretty much anything that is outside of human influence. Examples would include characters like Spiderman, the Fantastic Four, the Flash, Green Lantern, and Superman.
Essentially, superheroes from the gods are picked by external forces to be special and apart from the rest of humanity. These types of characters reflect of classic myths from Gilgamesh to Beowulf to Hercules – characters who are in some way divine or semi-divine and whom ordinary mortals can only gaze upon in wonder.
It's not surprising that an awful lot of heroes followed this particular path, because this is actually one of the oldest story templates out there. Also not surprisingly, you can see traces of old world class structures in place, where the heroes being chosen by the gods are above and apart from the masses of humanity and exist show the rest of us great unwashed proles a better way. In some cases, like Superman, or Thor, we are dealing with characters who are better than human because of their alien/godlike origins. In other cases, like the X-Men, we're dealing with characters who are considered on the fringes of humanity and who are generally disliked by the public because of an accident of birth.
No ordinary human is able to rise to their level and conversely, they are not able to bring themselves down to the level of ordinary human – no matter how much they might want to. The class structure for these characters is carved in stone, and both upward and downward mobility are impossible.
Let's now take a look at the second type of hero: the hero that's made by men. This superhero is the ordinary man or woman who, through their own talents, willpower, and determination, rises up from the masses and becomes a character who can challenge the gods. Examples of these types of characters would include Batman, Iron Man, Green Arrow, Hawkeye, Black Widow, and others who are little more than ordinary people in funny costumes, but who have the essence of being a superhero in them.
Where the heroes created by the gods reflect the old-world classicism, the superheroes made by men are much more new-world in their origin. In much the same way as anyone can rise to the highest levels of American (or Canadian) society if they are prepared to work for it, people can become superheroes if they are courageous, talented, determined, and crazy enough.
This particular origin path springs directly from the pulp era, where characters such as the Spider, the Phantom Detective, and others were ordinary, albeit rich men, who took up crime fighting as a personal crusade or simply because they were bored with their lot in life. A lot of the science-based superheroes (and not a few science-based supervillains) have this type of origin story. You could, if you stretched the definition of superhero, include some of the earlier detectives such as Sherlock Holmes and his contemporaries, or even the Gerry Anderson Thunderbirds as superheroes made by men.
This origin path does allow opportunities to delve deeper into character since the hero is motivated to step outside their normal life and take on the challenges posed by crime and disaster. Unlike the superheroes made by the gods, the superheroes made by men step out of ordinary life by their own choice, rather than being forced out by the gods.
Depending on whether you want your superhero character to be one that's made by the gods, or made by men, you're going to have to approach the origins a bit differently.
Superheroes made by the gods…and how to fix them
I have to admit, I'm not a real fan of the superheroes that are made by gods or "Chosen Ones."
By giving a character a superhuman ability from an outside influence, be it scientific accident as in the case of Spiderman, alien technology as in the case of Green Lantern, or supernatural forces as in the case of Buffy the Vampire Slayer, you have already given them the tools to solve whatever world threatening problem you're going to be tossing them. You've also immediately set them apart from the reader by saying these people are not like you. They're special. This is one of the reasons why characters like Spiderman and Buffy end up being hit with so many real-world problems in order to compensate for this tremendous gifts they've been given and to make them more relatable to us poor slobs that have to live as mere mortals.
It also becomes very easy to screw up their origins stories.
Let's take a look at the example of Luke Skywalker from Star Wars: A New Hope. As far as characters and storylines go, the story of Luke Skywalker from A New Hope maps perfectly onto Joseph Campbell's monomyth of the hero's journey. We start with Luke Skywalker as a young man who has to progress through challenges, with the support of the supernatural, helpers, mentors, and undergoes a death and rebirth to become a hero of the Galactic rebellion. If you are looking at the movie from the perspective of the hero's journey, Luke Skywalker is very definitely the hero of that film. But what do we remember about Luke Skywalker nearly four decades after the movie hit the theaters? Right. The whiny farm kid. Because Hans Solo is a more interesting character and undergoes a much more significant transformation, he steals the thunder from Luke Skywalker.
Star Wars: A New Hope is one of the reasons why "the Chosen One" is not a compliment when applied to a character in most fiction. Yet, that doesn't stop writers from going back to the monomyth well to see if they can bring that particular archetype into life with their own character.
If you want to see a movie that shows a perfect example of how a Chosen One can go really wrong, check out Green Lantern, starring Ryan Reynolds. Everything that could be done wrong on the hero's journey is done wrong in that particular film.
If you want to see a movie where the heroes journey is done right, check out Man of Steel. Although many people outright hate this movie because of its ending, as a story where you have a hero gifted with wondrous powers undergoing a transformation towards becoming a superhero, it stands right up near the top of the list. Another film that you can look at which also shows the hero's journey incredibly well for a chosen character is Captain America. This matches the mono-myth/hero's journey nearly beat for beat.
So, what's the main difference between Green Lantern and Superman or Captain America?
Simple: Superman and Captain America earn their hero like stature. Green Lantern never does.
Even though character may be chosen, they still have to earn the mantle of hero. By going through the work, the risk, the effort to face the villain or the challenge, this divinely created character is going to be made real to the audience, and the audience will be able to satisfy their own sense of justice that this character is worthy of the gifts that they have been given. In short, you gotta work for it.
How do you show the character working for it? There are a number of options:
One is the recognition of the limits of their power – that it can't solve every problem that they face.
We see this when young Clark Kent is unable to save his adoptive father despite having these amazing powers.
We see this in Captain America when Steve Rogers, despite the super soldier serum coursing through his veins and a desire to fight alongside his fellow soldiers in the European theater, is instead chosen to headline a USO bond drive.
The powers have to be insufficient to the task, and the hero, through his own intellect is able to capitalize on the opportunities to overcome the challenge without relying on his powers. Clark Kent goes on a walkabout, saving lives as he goes to try to find his place in the world following his father's death. Steve Rogers, on being told that his best friend is missing in action, disobeys orders and puts himself in harm's way to try to save his friend. That both Clark Kent and Steve Rogers are successful in their quests defines them as characters, and endears them to the audience where they can then use their gifts to deal with the much bigger threat that faces them.
They've got to earn the mantle of hero. They may be given the powers, but they still have to earn the Cape.
Another option is that the character themselves is flawed and has to overcome the flaws to emerge as hero.
We see this in the movie Thor, where Thor's arrogance and brashness is a weakness that threatens Asgard and calls into question his ability to assume Odin's throne. Although not executed perfectly, the story of Thor's willingness to sacrifice himself to save anonymous townspeople even lacking his powers does show him striving to overcome his biggest flaw to finally become the man he is destined to be.
We see this done rather poorly in the 1994 Shadow movie, where the character of Lamont Cranston has a dark past and must atone for his sins, and until he finds peace with himself, he will not have the strength to deal with his arch-nemesis Shiwan Khan.
The problem with the flawed character approach is that it becomes very easy to make the character unlikable. Although there is a market for truly unlikable characters (such as Ambush Bug and the Punisher), most readers will refuse to buy or follow a book starring such a character.
The flawed character moving towards redemption can be a very powerful story, especially if the character resonates well with the audience. Even more compelling is the character seeking redemption forced by circumstances to do terrible things, creating a pattern of rise and fall, only to rise again and then – at the climax of the story – choose whether to continue to walk in the light or to fall forever into darkness. As an example and even though he's not a superhero, check out the character arc of Londo Mollari from Babylon 5 for a perfect example of this type of back and forth transition.
So, let's quickly review:
A superhero created by the gods is one of the oldest templates for superhero origins.
Their superhero origin maps very well onto the hero's journey template or monomyth.
The key to a successful origin is that the hero has to be seen earning their superhero status, either by overcoming problems their powers cannot resolve, or by overcoming an internal flaw to become worthy of the mantle of hero.
Anyone can be a superhero – if they survive the origin story
The other way that superhero origin stories are told is the superhero made by men. Again, just by being determined enough, smart enough, and resourceful enough – and combined with a willingness to risk their own life challenging godlike beings, anyone can be a superhero.
They just have to survive the origin story.
Scratch that. They have to do more than just survive. They also have to earn being a superhero.
One of the best examples of the hero surviving their origin and transforming themselves into superhero is in the movie Batman Begins. This movie is genius level in rewriting Batman's origin story and showing the audience exactly what Bruce Wayne went through from the time that his parents were killed to the time he actually puts on the cowl and becomes Gotham's dark Knight. We see this privileged rich kid, someone that we might think of as a chosen one because of his inherited wealth, actually go from a sniveling teenager who can't even pull the trigger properly to holding his own in the middle of a riot in a Chinese prison to taking out an entire clan of ninjas before returning back to Gotham to wage his own private war on crime. Every step of the way, Bruce Wayne is struggling to become the superhero. He is earning the cowl, and the audience knows it.
Another example is the origin of Iron Man in the first iron Man movie. Tony Stark, rich billionaire playboy and weapons designer with issues, is stripped of his wealth, tossed into a cave with a bucket of spare parts, and he has to endure imprisonment, torture, and the death of his mentor all so he can escape and set himself up to face the main villain of the story. Although Tony Stark is a genius when it comes to technology, his gift isn't going to help him survive captivity. Instead, he earns the mantle of superhero based on his determination not only to stay alive, but to help atone for the destruction that his inventions caused in the past. For the audience, Tony Stark definitely earns the suit.
Just like the "made by the gods" types of characters, the superhero made by men is ridiculously easy to screw up. You have to have a strong enough motivation to have them fight crime AND you have to be able to show that they understand the real challenge they face – to make the world right in line with their morality.
A perfect example of how easy it is to screw up an origin story is the Punisher. While it might be a (very slight) stretch to call him an Executioner knock-off, the similarities are certainly there – a soldier whose family was killed by the Mafia and who starts a war of vengeance on organized crime ad infinitum. Vengeance is certainly a viable motive for making a character step out from the normal life to fight super-villains, but if vengeance is all the character has (such as with the Punisher), then the character becomes paper-thin. Follow that with Garth Ennis' take on the Punisher, which suggested that the character was created as a product of his Vietnam service. Combining vengeance and riffing on the "psycho-Vietnam Vet" stereotype unfortunately does not give the character more depth, nor does it make the origin any better.
Continuing with in the example of soldiers as characters, there are times that it seems there are more Navy SEALS active in the pages of fiction than there ever were in the entire history of the unit. If any readers of this blog admit to watching Baywatch you may recall that David Hasselhoff's character, Mitch Buchanan, was a Navy SEAL prior to becoming a Lifeguard. Of course, this was mentioned more in passing or as justification for the some of the heroics required by the plot that actually being an origin worth telling. In short, Buchanan was never shown earning the mantle of Navy SEAL, nor was it ever demonstrated to have an impact on the show.
In giving the origin stories of both Batman and Iron Man, there is a moment when the characters realize the true nature of the world around them and how out of step it is with what their morals demand it be. In the movie Batman Begins, there is the scene where Bruce Wayne goes to face down the mob boss in the restaurant and realizes just how powerless he is in the face of what Gotham has become. In the first Iron Man movie, Tony stark is captured and tossed into a cave where he also realizes just how powerless he is against the insurgents his weapons were designed to target.
With the Punisher, on the other hand, his family is killed and so he falls back on his military training in order to take on the bad guys. At no point is he truly powerless. At no point in his entire story arc does he ever rise above the stereotypical "man with gun seeks revenge." There is no real transformation for him – a point Garth Ennis drove home when he took over the character and showed him to already be the Punisher at the time the signal event of his family's murder occurs.
As a further contrast, both Batman and Iron Man have ideals that go beyond the events that set them on the path to being superheroes. Batman serves Gotham. He wants to protect it, to save it, and rid it of the criminal element that has infested it. Tony Stark is a weapons designer who is now motivated to make the world a better place through technology, and to atone to a certain extent for all of the harm that his weapons have caused in the past. The Punisher, on the other hand, just wants revenge. He never aspires to anything higher.
So, let's recap:
A superhero made by men has to choose to be a superhero.
As with superheroes made by the gods, they have to be shown earning the mantle of superhero.
In addition to surviving the process of becoming a superhero, and they have to show that they have been awakened to the challenge of making the world right, according to their own ideals.
The ideals have to rise above the events that made them choose to be superheroes.
When to tell a superhero's origin story? That's a mystery…
In most cases, writers choose to tell these origin stories at the point where the character is least defined, and at a point when the writer also has the least experience with the character. In short, they're telling the origin story at exactly the worst possible time – at the beginning.
While it's not unusual to delay an origin story for a certain period of time, readers expect an explanation fairly early on in a character's career of how that character became a superhero. They want to know more about what motivates the character, the character's DHA (Dreams, Hopes, and Aspirations), and what dark secrets the character hides that set him on his path to being a superhero.
There's also the reader's need to find out where the character sits on the classic literary "hero's journey." Ah yes, the infamous "hero's journey" – the archetypal monomyth template shared across multiple codified by Joseph Campbell and passed down through generation to generation to generation…
You would think that the monomyth would be a great opportunity to lay down a character's origin story in line with something that has worked time and again, over the centuries. After all, if it ain't broke, why fix it? A writer using the monomyth as a template would be able to bring every literary trick of the trade to bear to make sure that their origin story was among the best out there.
Every trick that is, except for the most important one.
Mystery.
We talked about the use of mystery to make super villains more compelling. The same applies in the event of a superheroes origin story. Your readers are going to have a need to find out more about the character that you've created. Once that need is satisfied, they may stick around to see what else you do, or they may wander off to find the next shiny object that catches their attention. If, however, you delay satisfying their curiosity and you tease them with hints, suggestions, and even the occasional red herring, then you're going to be turning their curiosity into a burning need to know. And they will stick around to find out how this character that has been compelling them over these many stories actually came to be.
Tell the stories that you want to tell about your character. Explore the character and make him dynamic. As you get more and more familiar with the character, and more comfortable telling stories about that character, you will be able to decide the right point where that origin is to be made public. The mystery that you create along the way is going to keep your readers coming right along with you.
At some point, you do have to reveal the superhero's origin. Curiosity needs to be satisfied because otherwise, the audience gets bored and moves on. However, if you do it right, you will satisfy the curiosity on one mystery, only to stoke the fire on an even bigger mystery. And that is one thing that will keep your readers coming back again and again.
About the Artwork:
I've been playing around with a pulp-style of artwork. Here's the full version of the image from the start of this article. What do you think?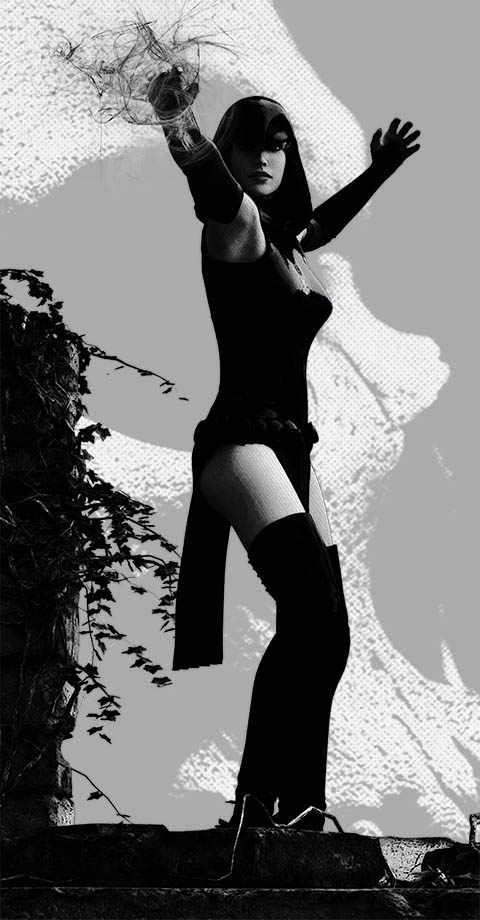 If you liked this article on superhero origins, let me know in the comments below.