"Once upon a time…" isn't that how most classic stories start? This one's really no different. It's been a pretty long road to get here, but I am very happy to announce that my first short novel Accused: A Black Skull Short Thriller
, is now available for Kindle on Amazon. Currently in e-book format only, I will be  releasing a paperback version as well.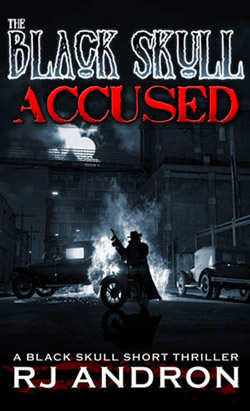 Click on the book cover above, or on this link here: Accused: A Black Skull Short Thriller
, in order to be taken to the Amazon sales page to buy the book.
What is the Black Skull?
The Black Skull is a classic masked vigilante in the tradition of the 1930s-era pulp heroes. Set in a very dark, very corrupt version of New York City in the 1930s, the Black Skull fights against the predators the law can't – or won't – touch. The 1930s were the height of the Great Depression, a time when economic collapse coupled with the rise of fascism and communism left the United States vulnerable to all manner of predators. From organized crime to enemy saboteurs to traitors and terrorists within in her own borders, America faced a host of evil on all fronts.
The pulp heroes of the day inspired Americans of all walks of life to believe that Justice could prevail in a world where organized crime and dictators continued to threaten Freedom, and when the very idea of America was being called into question.
What's Accused About?
Here's the back cover blurb for Accused: A Black Skull Short Thriller
:
They Framed the Wrong Masked Man
The Black Skull is a myth, an urban legend to the New York underworld. A masked killer who can appear from shadows, he leaves only bodies and blood as evidence of his passing. They say he cannot be killed, cannot be stopped, and that no-one who has ever seen him has lived to tell of it.
They also say he doesn't exist.
Gideon Slade was one of New York's trust fund elite until the crash of 1929. Disinherited and thrown onto the streets by his industrialist father, he ekes out a living writing for pulp magazines. They say that he's a drunk, a womanizer, and that he threw his life away chasing after old secrets that should remain hidden.
They think he's the perfect patsy.
When dirty cops frame Gideon Slade for the murder of one of their own, they have no idea that Gideon has secrets of his own, and that the Black Skull is all too real. They have no idea that they are about to unleash a nightmare of fire, violence, and blood.
In the classic tradition of the 1930s masked pulp heroes, the Black Skull prowls the dark underworld. In a city corrupted to its core, where Justice is found at the barrel of a gun, the Black Skull battles against predators the law can't–or won't–touch.
Once upon a time, heroes had to wear masks.
So, Why Write a Pulp Novel?
I've always been entertained by and interested in superheroes. By going back to the 1930s-era pulp stories, we see the roots of the modern-day superheroes. We can, in many cases, trace the lineages of our modern-day superheroes back to the popular characters in the 1930s. There are a lot of links between Superman and Doc Savage, and between Batman and the Shadow or Zorro, just to name a couple of examples. I wanted to get back to these roots in order to tell some stories of an ordinary person who, after a good deal of training and preparation, becomes a hero to protect the innocent.
I also wanted to create a setting where a hero would be compelled to step up and protect the innocent. To do that, I had to look at a setting that had been so torn apart by crime and corruption that the more traditional methods of protecting society had fallen apart. I had to create a setting where police, prosecutors, and politicians were all unreliable to the average citizen, because they had been taken over by organized crime and other enemies of American society.
Let's face it, putting on a mask to fight crime is not the act of a rational person — unless it's the only option available.  The 1930s, because of the economic and political turmoil of the day, gives us the opportunity to explore that. And it lets us have an awful lot of vicarious fun in the process!
Masked Man or Mystery Man?
So, in that sort of setting, stepping up to demand justice essentially paints big target on your back. This was one of the big rationales for the secret identity of many heroes – to protect themselves and their loved ones. While there were many of the classic pulp heroes that worked openly with the law, such as the Operator 5 and the Shadow, there were others that were considered criminals even though they fought for justice. I would include characters like The Spider and The Green Hornet in the category of heroes who faced arrest or death in a hail of police gunfire each time they stepped out to fight the bad guys.
Given the degree of corruption that exists with in the Black Skull's world, he is actually closer to the second category. Although many in his world would consider him just an urban myth, the police, if they were to encounter him, would very quickly try to arrest him or kill him.
The Further Adventures of the Black Skull?
This is the first book featuring the Black Skull. I'm currently working on the second book in the series, and their are plans for at least two more after that. The Black Skull is going to have a lot of enemies to fight over the next few books in the series, and I'd encourage everyone who enjoys reading about superheroes or pulp heroes, and who enjoys reading a lot of action and adventure to read these books.
Click here to buy Accused: A Black Skull Short Thriller at Amazon
.
RJ Andron
is a writer, game designer, filmmaker, and animator specializing in building heroic worlds. He is the creator of the
Black Skull
, a masked New Pulp hero who fights for Justice in a time when heroes have to wear masks to face down the predators the law can't – or won't – touch. If you love reading both-guns-blazing pulp hero action, check out the
Black Skull!